GIVING BACK TO OUR COMMUNITY AND SUPPORTING THE"GREATER GOOD" VIA CHARITY & VOLUNTEERISM.
Lynka has been active in Poland for almost 30 years. During that time, we have helped our community by supporting local aid initiatives, either financially or in kind.
We believe that social solidarity, especially in these demanding Covid-19 times, is needed more than ever. Lynka is awestruck by the outpouring of human compassion and generosity from every corner of Poland both on the side of companies, foundations as well as individuals wanting to help hospitals, small local businesses or simply other people.
Moved by the situation of hospitals left to their own resources, Lynka has decided to broaden its scope of its humane / non-profit actions by donating part of protective masks sales income to relief actions for the benefit of children's hospitals.
Lynka's charity activities are united under our Lynka CARES program. The heart – a modified version of the Lynka icon – symbolizes love, good will, and humanity – all timeless values that we have always cherished.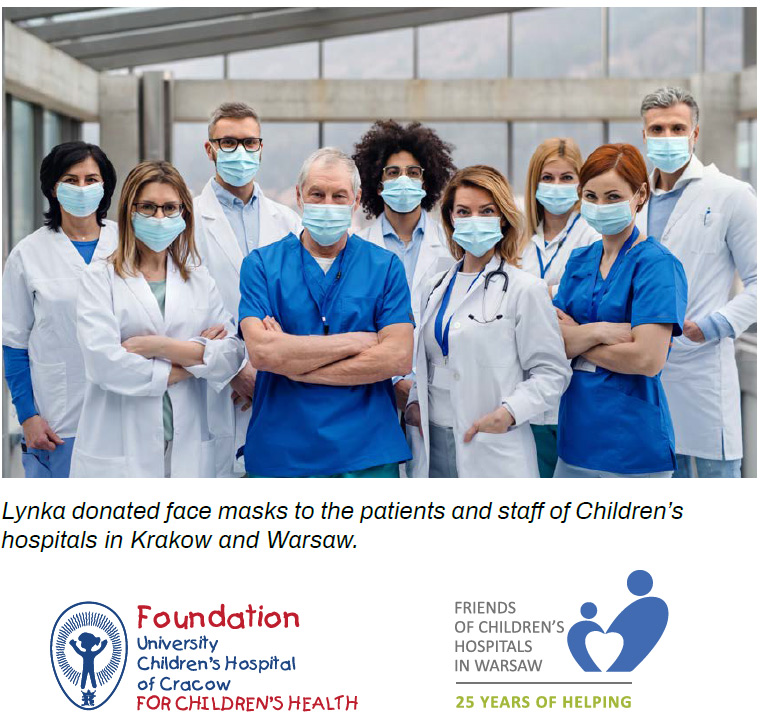 AMCHAM MEMBERS LEND THEIR SUPPORT
AmCham Poland join forces in the fight against Coronavirus.
From the very beginning, American investors in Poland representing many sectors of the Polish economy have actively joined forces to fight against the Coronavirus. A large number of member companies have joined the campaign voluntarily, supporting health care personnel on the front line of the fight against the Coronavirus. Companies like Lynka are sewing masks, 3D printing visors and supporting the local senior community. Their creativity and willingness to help every day inspire us to work together and win the fight against the Coronavirus.
LYNKA'S GOODHEARTED ACTIONS INCLUDE:
Donations in kind e.g. face masks, apparel, bags, accessories to Children's hospitals
Support of our employees' social engagement or aid actions (e.g. Great Orchestra of Christmas WOŚP, Szlachetna Paczka)
Transferring a percentage of face masks sales to the Children's University Hospital in Krakow or to Friends of Children's' Hospitals Foundation in Warsaw
Free of charge or preferentially priced printing services on goods ordered for the actions whose beneficiaries are children or children's hospitals
Engagement or support of charities initiated by our clients
Lynka has made since 1997 annual donations to the American Chamber of Commerce charitable drive to support 8 orphanages in the most economically depressed areas of Poland and a single mother's shelter.