Dlaczego Lynka?
Ciągły rozwój poprzez możliwość uczestniczenia w szkoleniach, warsztatach Lynka Academy czy angażowania się w nowe projekty

Rekrutacja wewnętrzna - dajemy naszym Pracownikom szansę na rozwój w różnych obszarach funkcjonowania Firmy

Współpraca ze specjalistami posiadającymi wieloletnie doświadczenie w branży

Współtworzenie marki będącej liderem w swojej branży

Bezpłatny dojazd do pracy na trasie Kraków – Skawina – Kraków

Prywatna opieka medyczna Luxmed

System Mybenefit

Karta Multisport

Premium Friday

Możliwość pracy zdalnej

Atrakcyjne zniżki na produkty firmowe
---
Co warto o nas wiedzieć?
Nasza firma powstała blisko 30 lat temu, w 1992 roku w Krakowie

Zajmujemy się produkcją zdobień na tekstyliach i gadżetach oraz dystrybucją markowej odzieży sportowej, promocyjnej i artykułów reklamowych

Asortyment obejmuje między innymi koszulki, t-shirty, koszulki polo, bluzy, kurtki, polary, odzież sportową, parasole, czapki i torby

Jesteśmy wiodącym dostawcą produktów promocyjnych w Europie

Siedziba główna, magazyny i hala produkcyjna zlokalizowane są w Polsce, w Skawinie koło Krakowa

Firma eksportuje swoje produkty do ponad 30 krajów, w tym w całej Unii Europejskiej, Europie Środkowej i USA

Specjalizujemy się w sitodruku, druku cyfrowym, transferach, sublimacji oraz hafcie

Obok odzieży (ze zdobieniami i bez) oferujemy również szereg usług dodatkowych, m.in. indywidualne pakowanie, metkowanie, dystrybucję, promo-shop'y oraz spersonalizowane rozwiązania skrojone na miarę potrzeb

Posiadamy nowoczesny magazyn i zakład produkcyjny o powierzchni ponad 10.000 m²

Nasz park maszynowy wyposażony jest w maszyny sitodrukarskie MHM umożliwiające nadruk nawet 16 kolorów, oraz maszyny haftujące Tajima

Zdobyliśmy ponad 50 międzynarodowych nagród za jakość zdobień w konkursach branżowych - to więcej niż jakakolwiek inna firma w Europie!

Firma obsługuje zarówno duże, jak i małe agencje reklamowe na terenie Polski i Europy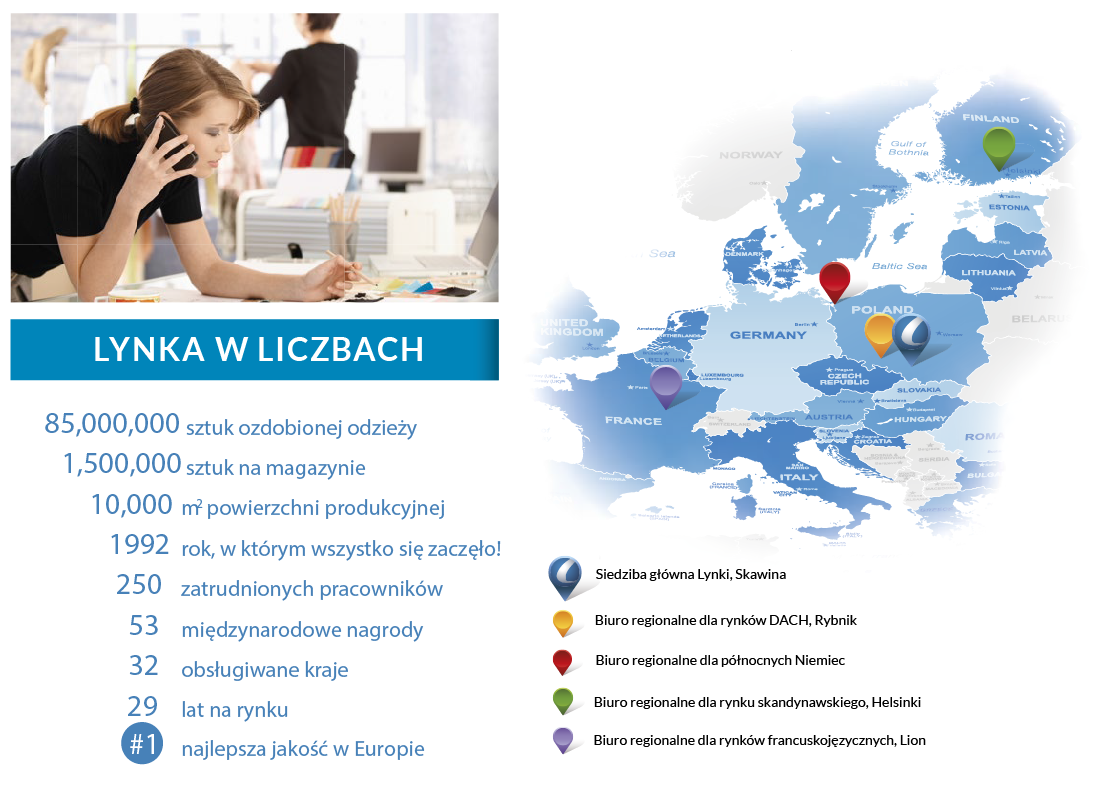 Zobacz jak pracujemy w Lynce
Zobacz jak wygląda praca przy produkcji
DOSKONAŁA OBSŁUGA KLIENTA
Doskonała jakość obsługi klienta to dla nas znacznie więcej niż tylko slogan. Lynka w szczególny sposób dba o swoich klientów, znamy ich z imienia, znamy ich firmy. Kiedy zawodzimy, spędza nam to sen z powiek.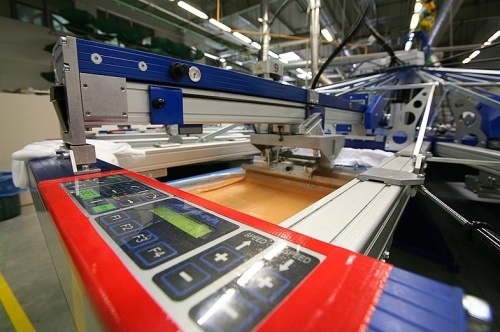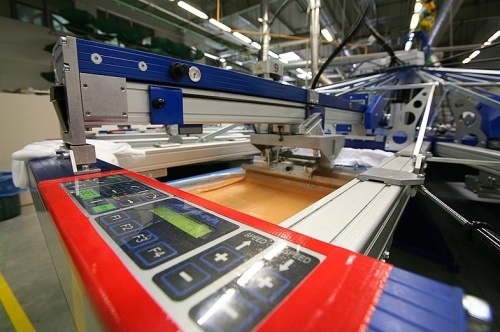 WSPANIAŁY ZESPÓŁ, ŚWIETNA ATMOSFERA
Aby osiągnąć nasze cele, Lynka musi mieć zespół najlepszych ludzi. Chcemy ich przyciągać, dbać o ich rozwój i sprawić, aby chcieli z nami zostać.
Dołącz do zespołu Lynka i miej wpływ na dalszy rozwój naszej firmy!

---