Certificates, Tests & Specifications
---
Certificate Downloads (PDF)
---
Welcome & Background
Unlike regular apparel products, face masks fall into a highly-regulated product category in the EU – medical devices. Face masks are more scrutinized than ever during the Covid-19 pandemic.
For months, the world's headlines have been filled with sad stories of quality problems, falsified certificates and millions upon millions of rejected or confiscated face masks – both in China and in Europe itself. So, it's more important than ever to work with partners that you know and trust, with clear standards and business values, and not just out to make a quick buck. It's also important that you can navigate the land-mine-littered territory of Certificates, Laboratory Testing and Specifications.
This section of the Face Mask Information Center provides background information on each of these three topics, as well as PDF's of our own product Specifications, Laboratory Tests and various certificates.
How to read MDD Table 1
How to read Table 1
Product performance standards (such as BFE) vs. Measures and Certification
Performance measures such as BFE, PFE, Differential Pressure (breathability) and microbial cleanliness are the most essential measures of face mask technical performance. Any type of mask produced anywhere can have these tests conducted in authorized laboratories, such as Nelson Labs (EU & USA). The results of these tests may be reported as an indication of the bacterial filtration efficiency or other properties of the mask. Reporting such results does not imply that the results are certified, or meet any particular standard.
MDD Certification is a legal confirmation that the mask in question meets or exceeds a specific standard set by the European Directive for face masks (in this case MD 93/42). For a mask to be considered MDD certified, it must undergo testing by an authorized laboratory, whose results need to be presented to the appropriate national or EU regulatory or customs authorities. Only then is the mask certified MDD.
What Certificates offered by Lynka?
Our products may contain various levels of certification and technical standards in accordance with EU regulations.
Medical Devices
If a product is MDD certified (i.e. compliant with EU Medical Device Directive MD93/42) that means it conforms with all the terms of MDD 93/42, as either Type I or Type II face mask. That means the particular face mask could be used in medical environment, and if Type I, worn by patients, and in the case of Type II masks, by doctors or surgeons in the operating arena. The EU standard for medical device face masks is EN 14683:2019.
CE Certification
Our product may be a non-medical device (not MDD certified) but have CE certification. CE does not signify any specific level of performance, but simply states that the product is compliant with EU regulations and meets the standards in the specific category the product belongs to. This is documented in a CE Declaration of Conformity that the Manufacturer or Distributor signs, and for whom the Management Board (Zarzad) is held personally liable.
Fabric Certification
The fabric used in our products may contain technical certifications assuring their performance in various areas such as breathability or filtration.
Manufacturer Certifications
The factories we use may contain certifications such as our own factory is WRAP certified.
'Proper Gear' branded products:
'Proper Gear' brand only include masks and other products that have true technical performance features, which might include one of more of the following:
o Bacterial or Particle Filtering (high BPE or PFE)
o Splash Resistance (kPa) and Microbial Cleanliness
o Breathability (differential pressure
o Replaceable filters
o Anti-bacterial treatments
o 60ᴼ C wash ability
o Industrial strength laundering (i.e. able to wash 50X).
PG products such as masks may be used for consumer, industrial, retail, marketing or promotional purposes. In some cases, PG products will contain MEDICAL DEVICE (MDD) or PPE (Personal Protective Equipment) status or certifications, but this is NOT a condition to be branded 'Proper Gear'.
'Europa' Masks
CE certified, professionally tested but NOT MDD certified
'Europa' protective masks are CE certified. The declaration of conformity was made in accordance with European Parliament decision 768/2008/WE (available online). This applies to products such as face masks with commodity code (Taryfa Celny) HS 6307 90 98 10. (dla wszystkich masek z włókniną).
Lynka traditionally supplies the corporate, PPE and promotional markets and not the health services or hospital markets. For this reason, we choose masks that are high quality with great properties, but are not MDD certified. If the client truly requires medical device compliance [MDD 93/42/EEC], we recommend the Regatta TRP/118 (Type I – for patients) or TRP/119 (Type IIR – for doctors and medical personnel).
Another reason why we designated 'Europa' as non-MDD certified is that in the recent past, there were problems with shipping medical grade (MDD) face masks around the EU. Masks that claim MDD status are more prone to be checked by customs authorities and suffer logistics delays, and in extreme cases, seizure by the authorities, sometimes on the grounds of "national interest."
Laboratory Testing. 'Europa' face masks were tested by the international testing company, Nelson Labs – a Sotera Health company with headquarters in Utah, USA and European offices in Germany, UK, France, Belgium and Denmark. See Table I for MDD Medical Face Mask performance requirements and 'Europa' mask test results.
---
---
Cotton Fare London GCF/MA001
---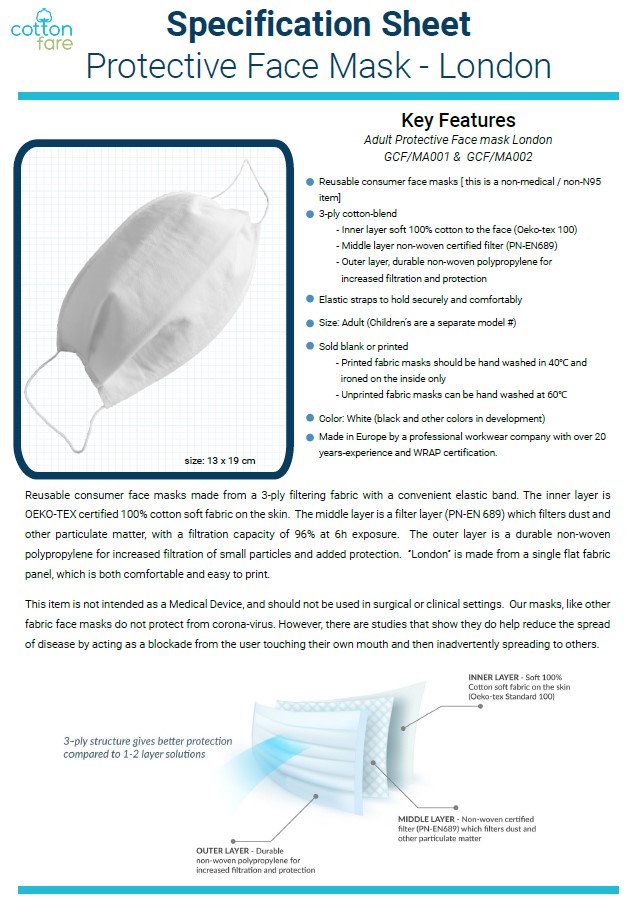 Cotton Fare Venice GCF/MA101
---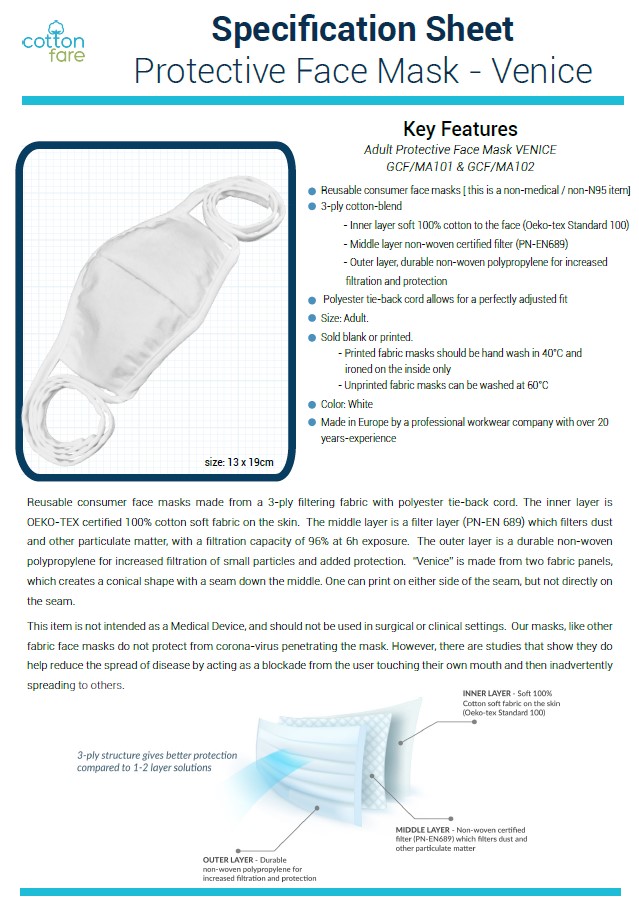 ---
Protective Face Mask 'Europa' GPG/MA601
---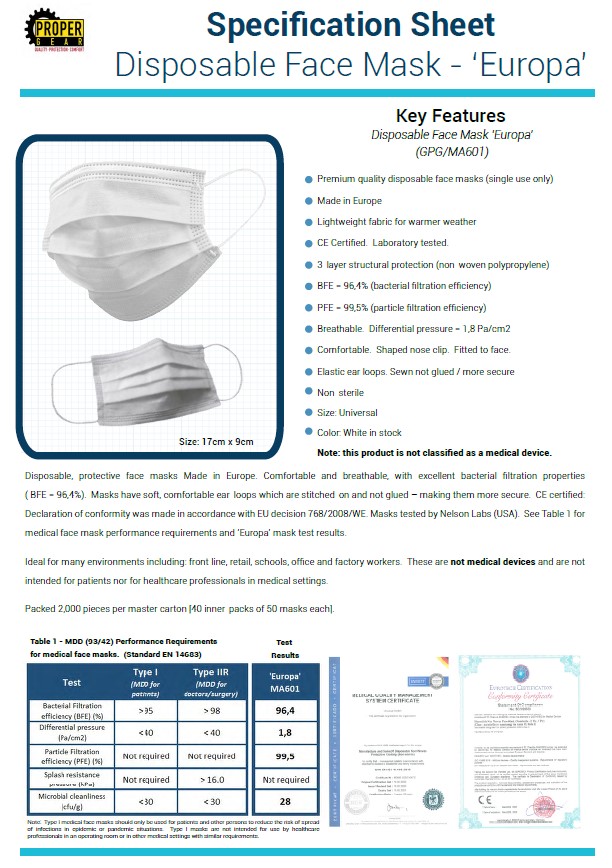 Disposable Medical Face Mask TRA/TRP118
---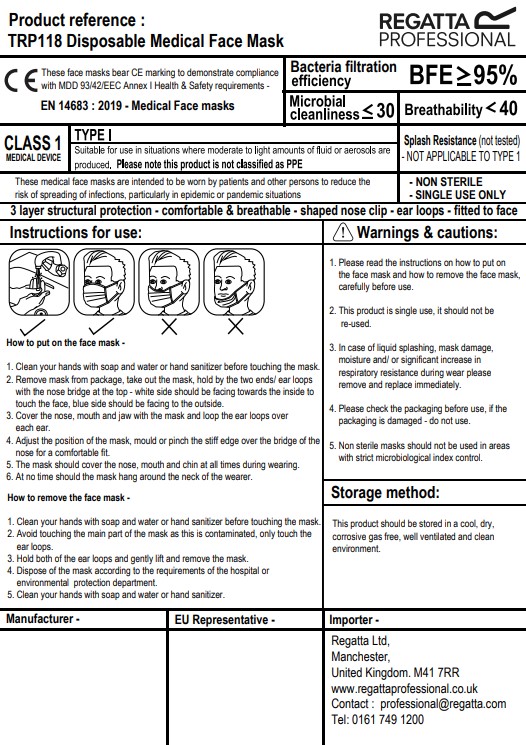 ---
4-ply Reuseable Face Mask 'Florence' & 'Frankfurt'
---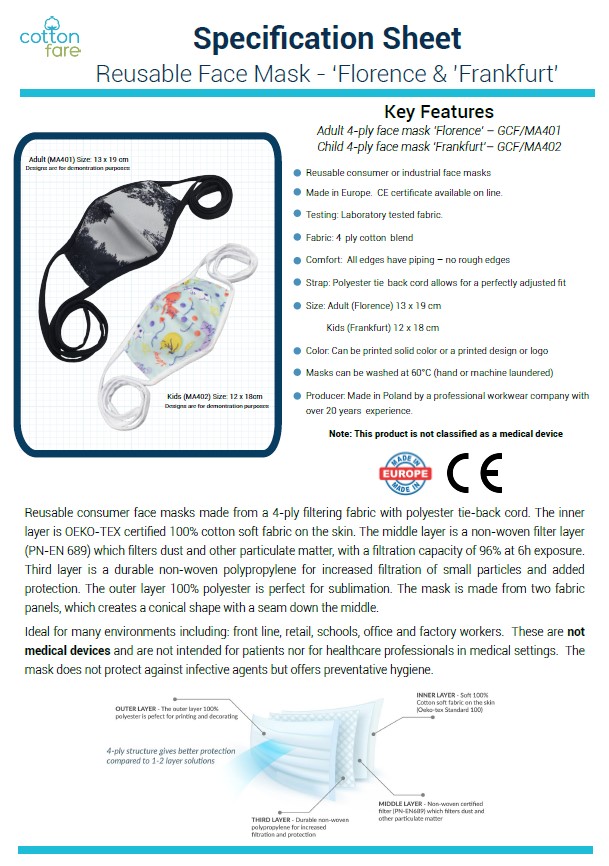 2-ply Reuseable Face Mask 'Dublin' & 'Dortmund'
---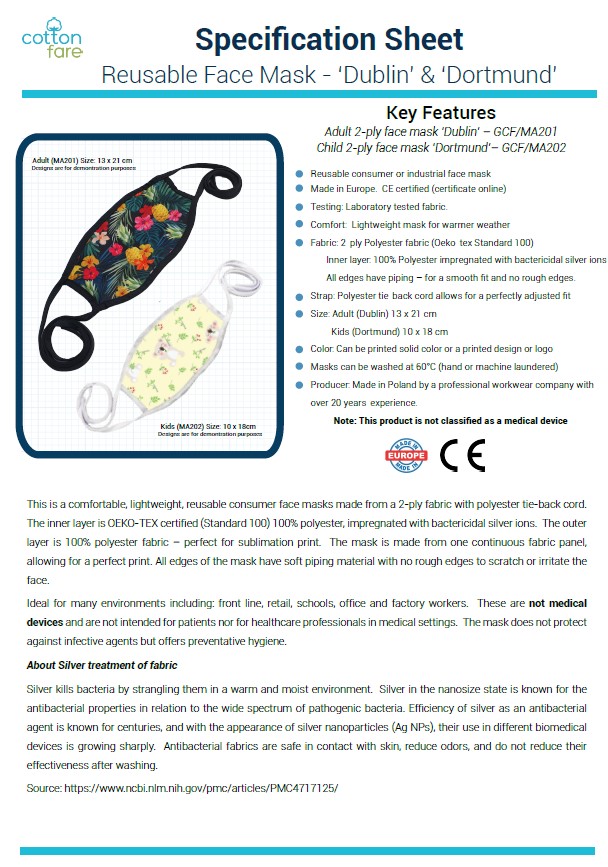 ---
4-ply Reuseable Face Mask 'Industry'
---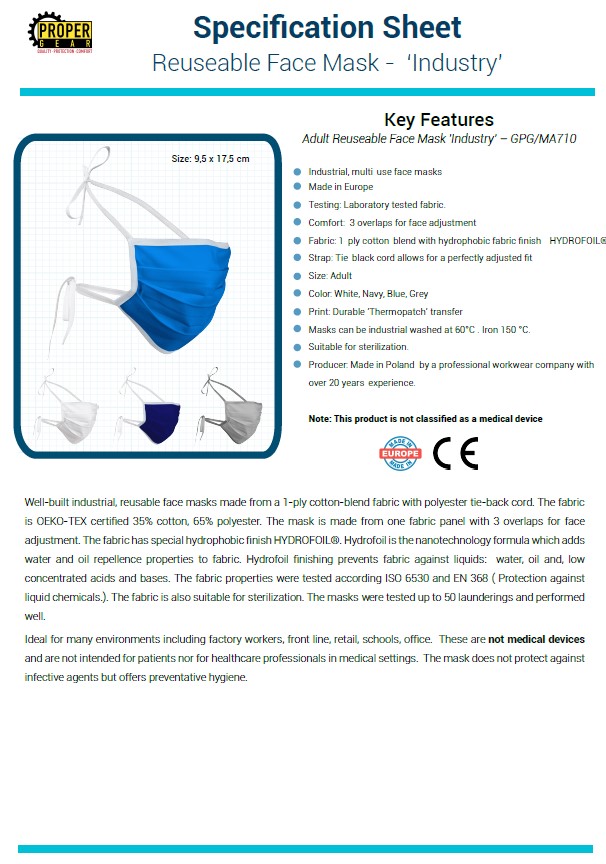 ---