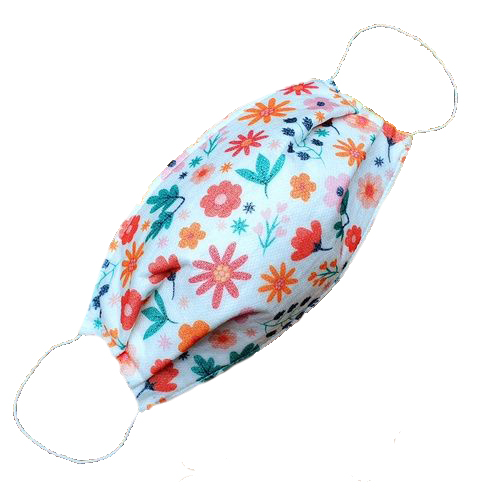 WELCOME to the LYNKA
Face Mask Information Center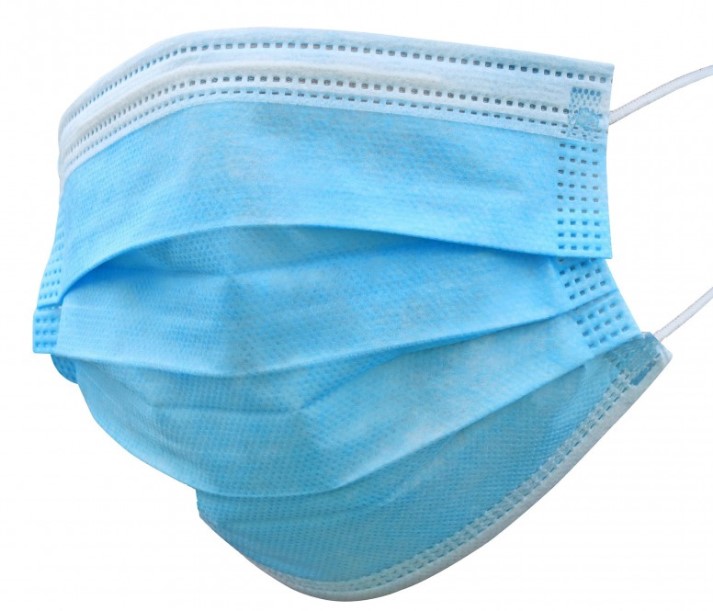 May 12, 2020
Dear Trusted Client,
During the last several weeks, as the world was coping with the coronavirus crisis, a small revolution was quietly but furiously taking place here at Lynka. I am pleased to announce that during these past weeks, we've built one of the most professional operations and most comprehensive collection of face masks, service and support in all of Europe.
Like many other businesses recently, much of our promotional and corporate apparel industry has been damaged by corona-virus. But instead of standing aside and complaining or weeping, we sprang into action. Today, Lynka is producing tens of thousands of face masks daily in our own factory, and printing even more with customer logos and images. To further meet our client's needs, working with proven, experienced – mostly European manufacturers – we have already assembled a collection of 10 face mask models, and we will be expanding further throughout the month of May.
Remember, face masks are not your typical article of workwear or promo give-away. These are protective items – with certain models even classified by EU Directives as Medical Device or Personal Protective Equipment. Knowing your specific needs will be critical to matching you up with the right mask. We invite you to have a look around our newly created FACE MASK INFORMATION CENTER to learn more about this intriguing and complex topic, and to help you sort through the heaps of data and information to choose the right mask for your client.
Sincerely

John P. Lynch
CEO & Founder, Lynka
Keep the Faith
---
Below is an executive summary of Lynka's face mask offer
as well as the major topics covered on our Face Mask Information Center:
---
Information About Cotton Fare Masks
Please note that Cotton Fare printed masks are non-medical grade (non-N95) masks and do not prevent the spread of corona-virus. They are reusable consumer face masks, which can be worn several times, and should be wash at 60ᴼC (unprinted). If printed, hand wash at 40ᴼC. Iron on inside only.
The masks are made from a 3-ply cotton-blend fabric:
Inner layer 100% single-jersey cotton with soft touch to the face
Middle layer non-woven certified filter (PN-EN689)
Outer layer, durable non-woven polypropylene for increased filtration and protection
The materials used to manufacture Cotton Fare face masks were made in Europe and were tested in an EBZBP laboratory. The mask can be used to protect the respiratory system against various types of pollution and helps protect against bacteria both from getting outside and entering the body. However, they do not give a 100% guarantee of protection, because bacteria can also get through and can be passed on to the hands of users.
Our fabric meets the human-ecological requirements certified by OEKO-TEX Standard 100. OEKO-TEX certified fabric means soft and safe contact of the material with the skin. It does not cause allergies and does not adversely affect health. It's free of pesticides, formaldehydes and other harmful substances.
Additional Information
Elastic straps and polyester tie-back cord to hold securely and comfortably
Size: adult and children
Wash at 60ᴼC (unprinted). If printed, hand wash at 40ᴼC. Iron on inside only.
Color: white & black
Made in Europe by a professional workwear company with over 20 years-experience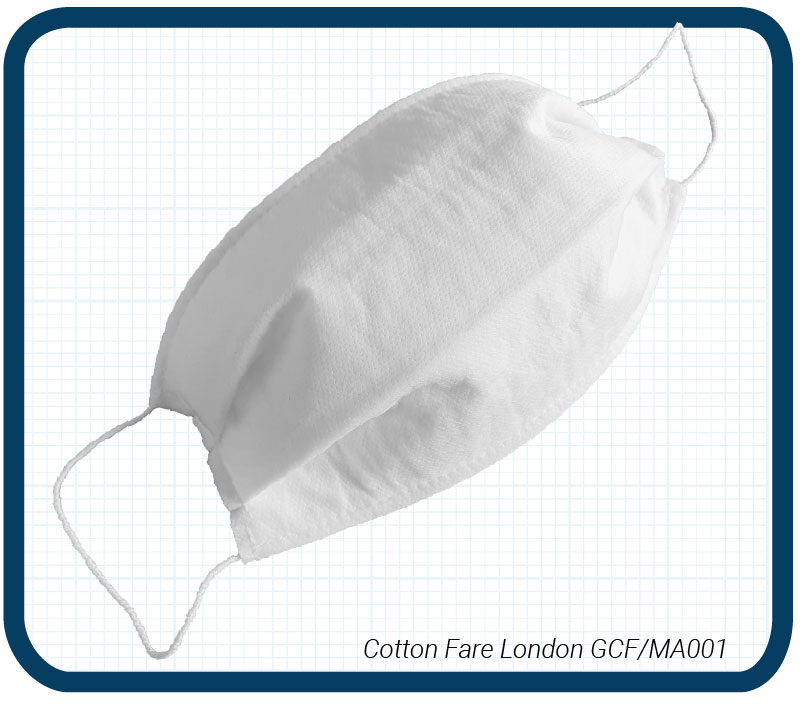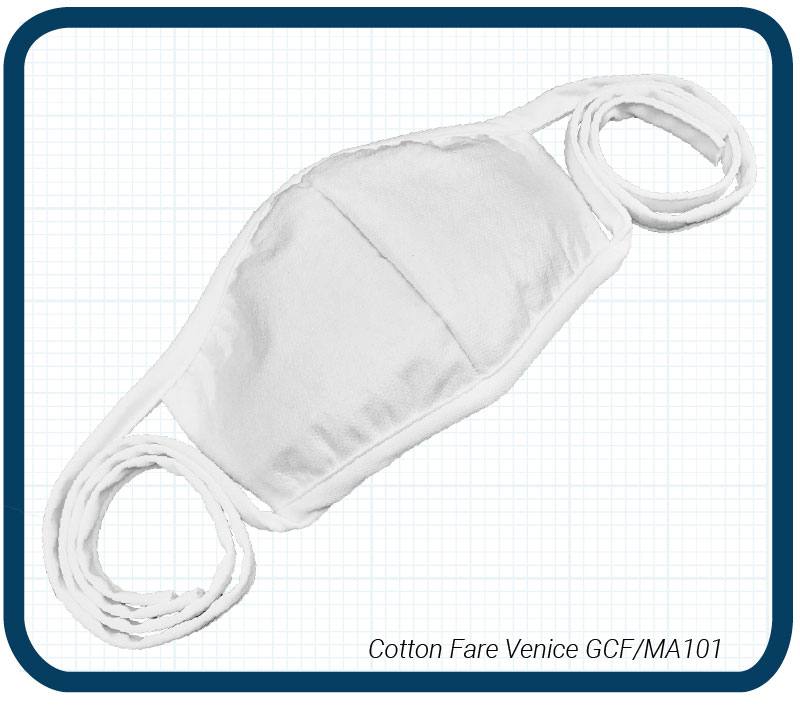 ---
Terms and definitions
For the purposes of this document, the following terms and definitions apply.
3.1 Medical face mask - medical device covering the mouth and nose providing a barrier to minimize the direct transmission of infective agents between staff and patient
Note 1 to entry: Transmission of blood-borne agents from patients to staff may occur via splashes.
3.2a Bacterial filtration efficiency (BFE) efficiency of the medical face mask material(s) as a barrier to bacterial penetration
Note 1 to entry: The BFE test method is used to measure the bacterial filtration efficiency (BFE) of medical face mask materials.
3.2b Particle Filtration Efficiency (PFE), measures the filtration efficiency of a mask using nonliving, or nonviable particles that are fixed in size from 0.1 micron to 1 micron. For example, a mask with a BFE rating of 99% at 3.0 microns provides less protection than a mask with a PFE of 98% at 1.0 micron.
3.3 Differential pressure air permeability of the mask, measured by determining the difference of pressure across the mask under specific conditions of air flow, temperature and humidity
Note 1 to entry: The differential pressure is an indicator of the "breathability" of the mask.
3.4 Colony Forming Unit (CFU) unit by which the culturable number of micro-organisms is expressed
Note 1 to entry: The culturable number is the number of micro-organisms, single cells or aggregates, able to form colonies on a solid nutrient medium.
3.5 Cleanliness freedom from unwanted foreign matter
Note 1 to entry: Such matter can be micro-organisms, organic residues or particulate matter.
3.5.1 Cleanliness — microbial freedom from population of viable micro-organisms on a product and/or a package
Note 1 to entry: In practical use, microbial cleanliness is often referred to as "bioburden".
3.5.2 Cleanliness — particulate matter freedom from particles that are contaminating a material and can be released but are not generated by mechanical impact
3.6 Infective agent micro-organism that has been shown to cause surgical wound infections or that might cause infection in the patient, members of staff or other
3.7 Surgical procedure surgical intervention penetrating skin or mucosa, performed by a surgical team under controlled environmental conditions
3.8 Aerosol gaseous suspension of solid and/or liquid particles, the particles having a negligible falling velocity
Note 1 to entry: See EN132.Note 2 to entry: This velocity is generally considered to be less than 0,25 m/s.
3.9 Filter material used for mechanical and physical separation or deposition of aerosol particles (liquid or solid) from the inhaled and exhaled air
3.10 Splash Resistance ability of a medical face mask to withstand penetration of synthetic blood projected at a given pressure
http://www.scpur.com/d/file/content/2018/04/5ae521ad3ab3d.pdf
---
---
TRUST
Lynka is your Trusted Source
We have one of the only WRAP certified factories in Europe
Most of our mask are Made in Europe
Many of our Masks are Certified
Our Fully Trained Staff is ready to support you
Our Focus is on safety and transparency
Governmental Compliance
Our Guarantee to you
Our same quality guarantee you know from Lynka for 29 years
KEY ATTRIBUTES: ALL ABOUT SAFETY
• Protection
• Comfort
• Usability
TYPES of MASK – in our offer
• Medical and Fabric masks
• Reusable & Disposable
• Blank & Printed
• Bulk or Individually packed
• CERTIFIED Medical or Consumer masks
• Adults & Kids sizes
A WIDE COLLECTION
• Classic Medical Masks
• Masks Made in Europe
• PPE Masks under "PROPER GEAR" brand
• Printed "Cotton Fare" masks
• 3-ply masks with replaceable filters
• Heavy Duty Industrial Masks Wash in 60ᴼC - up to 50 times
• Printed "Cotton Fare" masks
• Printed Masks – cotton-poly blend
• Printed Masks - sublimation
• Industrial face shields
• Novelties
LARGE SCALE PRINT CABABILITIES
• Eco-friendly soft and odorless water-based inks
• We can print over 50,000 masks daily
• 1st in Europe to deploy newly patented face mask printing technology from the USA.
• Screen print
• Sublimation
• Digital DTG
PROFESSIONAL
• All products have detailed SPEC SHEETS
• Helpful, professionally trained sales team at your disposal
• FAQ – Frequently Asked Questions
• Face Mask Information Center
FLEXIBLE (more Benefits)
• Small minimum order quantity
• Custom packaging (individual)
• Ship anywhere - complex logistics
SOCIALLY RESPONSIBLE
• Lynka Cares – we are donating to charity for every mask sold
• Helping Polish children's hospitals
READY TO SERVE YOU!